As the old year draws to a close, many people are already making New Year's resolutions. But before you get too caught up in planning for the future, why not take some time to enjoy the present? 
There's no shortage of things to do on New Year's Eve in Rochester. So you can ring in the new year with pomp and style. 
Explore ahead to find my top 10 favorites!
1. Ice Skating or Sledding in Genesse Valley Park
It's not New Year's without ice skating or sledding in Genesse Valley Park in Rochester. The park offers the perfect setting for an exhilarating way to ring in the new year. 
If you're feeling adventurous, go for a spin on the ice skating rink. Or, if you're looking for a more relaxed experience, take a leisurely stroll down one of the toboggan slides. 
The park is open from dawn to dusk, with loads to do. Just dress warmly and bring a hot chocolate to keep you cozy. 
Gather your fam and head straight to Genesse Valley this Christmas. 
Explore Christmas gift vouchers.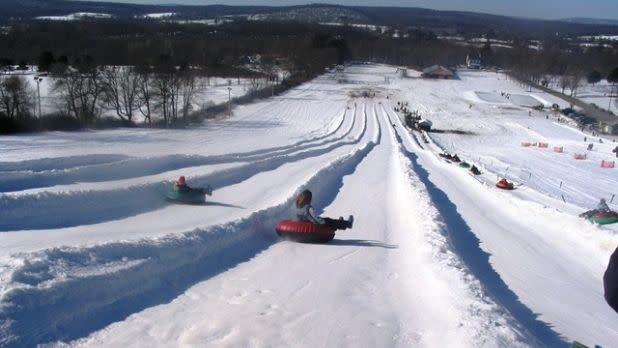 2. Watch the Sunrise from the Hills
For the party people, the adventurous, or anyone looking to try something different this year, watch the sunrise from a hilltop – the first sunrise for the upcoming year or years to come. 
Sunrise is an event most of us do not get to watch. Hike up any hill on New Year's Eve, but make sure to reach the top before dawn. Take some rest before you watch the night sky turn to dawn when the sun rises bit by bit, lighting up the entire horizon. 
A great way to start the new year, capture the sunrise, or simply take in the breathtaking views. Make sure to dress warmly and keep yourself comfortable.
Discover romantic things to do on Christmas in Rochester, NY.
3. Mythical Escapes Escape Room
For adventure seekers, escape this New Year with Mythical Escapes, located at a 10-minute drive from Rochester, New York. From many themes to choose from, gather your friends or family and get ready to have a blast! 
Our rooms are challenging but fun, and our staff is always available to offer hints and clues. We also provide party rooms for you and your squad to party after the games. 
If you haven't been to an escape room, then this time, make sure to ring in the new year with us!
4. Catch a Local Theater or Musical Production
For art lovers, catching a local show or a Broadway classic is a must to do. And if you haven't been to one, this is your chance to watch live entertainment. 
Rochester has a lot of theaters around that will probably get filled quickly. So grab your tickets before all the slots get filled. 
Get your friends and family too, and if they aren't interested, get hold of a date! Date night on New Years' will prove to be your best one in a while.
5. Volunteer For a Cause
Suppose you are looking to do something different this year, volunteer for a cause. Give back to your community, the help required either on your own or by joining an organization in Rochester. 
Volunteering for a cause will make you feel good about yourself, and the people who receive it will get uplifted too. New Year's is the occasion that might just be your most rewarding experience of all! 
Many organizations could use a helping hand, and you'll be doing something good while ringing in the new year. It is also a great way to meet people.
6. Take a One-Day Trip
I have already mentioned hiking to watch the sunrise. But if you aren't a hiker, you can take a day trip or a weekend trip to a nearby place to spend New Year's. 
Rochester is home to the finest wineries in the countryside, and if you want something relaxing, a trip to the countryside sounds soothing. If you are up for discovering new cities and towns around Rochester, grab your clothes and take that trip. 
If your friends and family do not get along, walk alone! There's nothing like traveling; if you haven't had the chance to travel lately, grab the opportunity and embrace the wild.
7. Games Night
If you and your friends are looking for a games night to ring in the New Year, the best way to go about is to have a games night at home! Or, if you want to feel the adrenaline rush, head to an arcade. 
Rochester has many arcade gaming centers that provide quality food, booze, and games! 
Get your consoles, games, and board games and arrange for food and booze, and while you are at it, New Year is already here! 
If you are looking for poker nights in Rochester on New Year's, head to the link to discover the best Rochester has to provide. Head here to discover more adult activities in Rochester.
8. DIY House Party
The cheapest way to usher in the New Year! You'll need only 3 things to set your house party on fire – food, friends, and a boom box. And alcohol, of course! 
If you want to decorate your place, put on low lighting. Arrange cups, plates, spoons, napkins, disposable garbage bags, and ashtrays. Keep some games in mind as the night is long and people might get bored. And a playlist that doesn't make you nostalgic or sad. 
You can also arrange a bonfire and a barbeque base if time permits! 
With some planning and effort, I can see your little house party becoming a tradition for the years to come.
9. Learn a New Skill
Strictly not for the partygoers. 
If you are bored of the same old festivities and want to stay home and do something productive, you can learn a new skill! 
A new skill goes a long way. You can learn how to bake cakes or cookies or a new dish, learn a new language, or tap into a different industry, try painting or sketching, the art of making cocktails or dancing, or learn an instrument, and the list is endless. 
The hack is to pick up something that you can master in a limited time during the holidays. 
If you are interested in indoor activities in Rochester, discover the link.
10. Go on a Date with Yourself
If you haven't already, you have a date this New Year! 
You can start your day by shopping or at a bookstore. You can also visit places you have never been to. Head for a sumptuous dinner accompanied by desserts. 
For a more lively scene, you can head to a club or a bar to dance in the new year! 
The ultimate motive is to spend the eve on your own. Discover and challenge yourself, and by the end of the day, you will fall in love with yourself! 
Do not overthink. Simply get with it.
So there it is! My top best things to do on New Year's Eve in Rochester! Head here to discover more things to do in the winter in Rochester. 
What did you do? Or do you have any favorite New Year's Eve traditions? 
Nevertheless, let us know in the comments below. 
And from all of us at Mythical Escapes, we wish you a Happy New Year! 
Cheers!